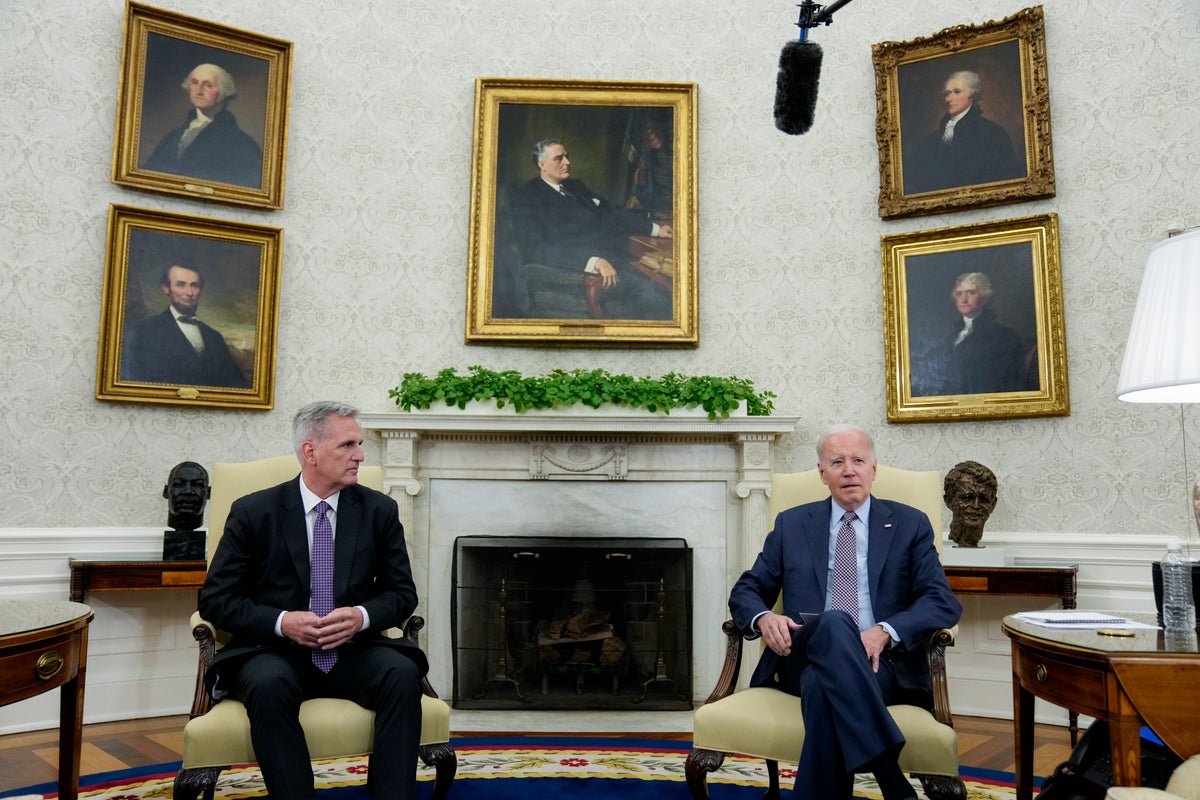 President Joe Biden on Monday said he was "optimistic" about the chances of finding an agreement with the Republican-led House of Representatives that would avoid a catastrophic default on America's sovereign debt.
Speaking at the outset of a crucial meeting with House Speaker Kevin McCarthy, Mr Biden said the source of his optimism was a shared agreement between the two men that a debt default was "off the table".
Mr Biden also said the consequences that would arise should the US fail to meet its outstanding debt obligations would be "a kick in the … economic well-being" for the American people.
The negotiating session between the president and House speaker comes with just 10 days remaining before the US Treasury is set to lose the ability to pay its bills by issuing new bonds.
In a letter to Congress, Treasury Secretary Janet Yellen said on Monday that "it is highly likely" that the Treasury would run out of operating funds in the event that Congress does not raise the department's statutory debt limit.
A default on America's sovereign debt would be a financial catastrophe both for Americans and people around the world who rely on US financial stability.
Mr Biden said he and Mr McCarthy "talked about the need for bipartisan agreement" and stressed that he was "optimistic" that he and Mr McCarthy were "going to make some progress" during the Monday evening session.
In a statement released several hours after the meeting had come to a close, the president said the meeting had been "productive" and noted that he and Mr McCarthy " reiterated once again that default is off the table and the only way to move forward is in good faith toward a bipartisan agreement".
For his part, the House speaker said he and Mr Biden had a "very productive" conversation during a phone call held on Sunday while Mr Biden was returning to Washington from the G7 summit aboard Air Force One.
Earlier in the day, Mr McCarthy told reporters at the Capitol that "decisions have to start being made" on spending for the next fiscal year since "we're 10 days out" from the debt ceiling deadline.
"We have to spend less next year than we spent this year," he said before pointing to the House's proposal for spending cuts as the "framework" for a deal.
"I'm hopeful," he added.
Outside the West Wing and upon returning to Capitol Hill, Mr McCarthy also characterized his discussions with Mr Biden as productive and said that the Oval Office session on Monday had been more fruitful than previous meetings between the two leaders.
"We still have differences," Mr McCarthy told reporters. "We left the meeting with directing the members in the staff to get back together work through the night, knowing where some of our differences lie, see if there's other ideas of where we can work through."
Mr McCarthy said that tax increases would remain off the table and he wanted to focus on cuts to spending.
"We literally talked about where we are having disagreements and ideas," he said. "So to me that's productive, not progress, but productive."
House Financial Services Chairman Rep Patrick McHenry (R – North Carolina) said it was productive to have everyone on the same page, but still criticized the White House.
"What I sense from the White House from is a lack of urgency," he said. "I think, to play brinksmanship is not wise when it comes to where we are with the banking system with the economy. And I think we should have a sense of urgency from the White House team. That was not evident in this meeting."
Mr McCarthy also reitered his support for putting in work requirements for certain social welfare programs.
"I don't think it's right to take from a hardworking taxpayer and go borrow from China to pay an able bodied person with no dependents to sit on a couch," he said.