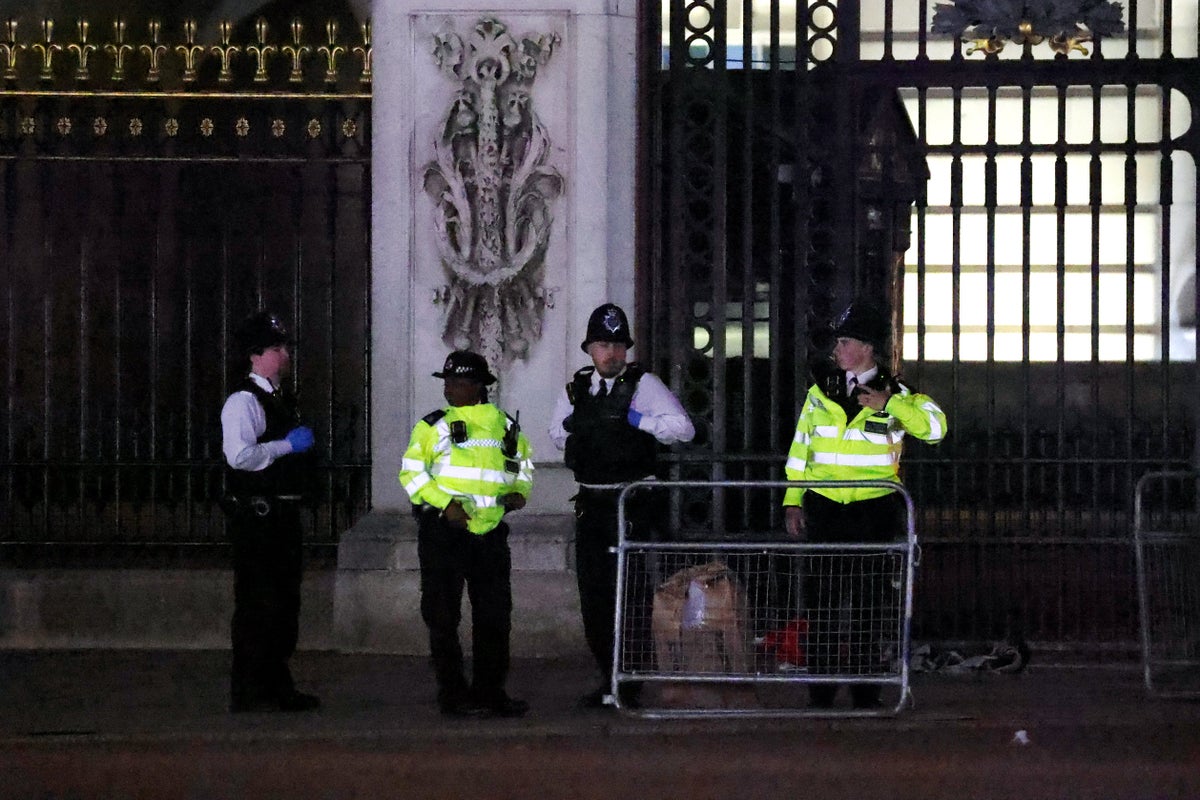 A man has been arrested outside Buckingham Palace after throwing suspected shotgun cartridges into the palace grounds, police said.
He was held on suspicion of possession of an offensive weapon after he was searched and a knife was found, but he was not carrying a gun. The man was also carrying a "suspicious bag" and a controlled explosion was carried out.
The suspect was detained at around 7pm on Tuesday and items recovered from the scene have been taken for inspection.
Chief Superintendent Joseph McDonald said: "Officers worked immediately to detain the man and he has been taken into police custody.
"There have been no reports of any shots fired, or any injuries to officers or members of the public.
"Officers remain at the scene and further inquiries are ongoing."
The incident is not currently being treated as terror-related, police said and it is understood it is being treated as an isolated mental health incident.
Roads were closed while officers dealt with the incident but have since reopened, with the majority of cordons lifted.
Neither the King nor the Queen Consort were at Buckingham Palace at the time of the arrest.
Buckingham Palace declined to comment and said the incident was a matter for the Metropolitan Police.
The controlled explosion could be heard live on air as former business secretary Jacob Rees-Mogg appeared on. GB News.
It comes just four days before the Coronation of King Charles on Saturday, during which a ring of steel is expected in the capital for the historic event.
Policing minister Chris Philp has described it as a "huge policing operation" and heads of state and foreign royals from around the world are set to travel to the UK.
Union flags are already hanging outside Buckingham Palace and along The Mall where royal "superfans" have started to set up camp, eager to get a prime spot from which to view the royal procession.
Police attend scene after man arrested outside Buckingham Palace
On Tuesday evening, troops from the British Army marched across Westminster Bridge in preparation for their part in the celebrations.
The UK Armed Forces will participate in a procession from Westminster Abbey alongside troops from the Commonwealth and British Overseas Territories, the Sovereign's Bodyguard, and Royal Watermen.