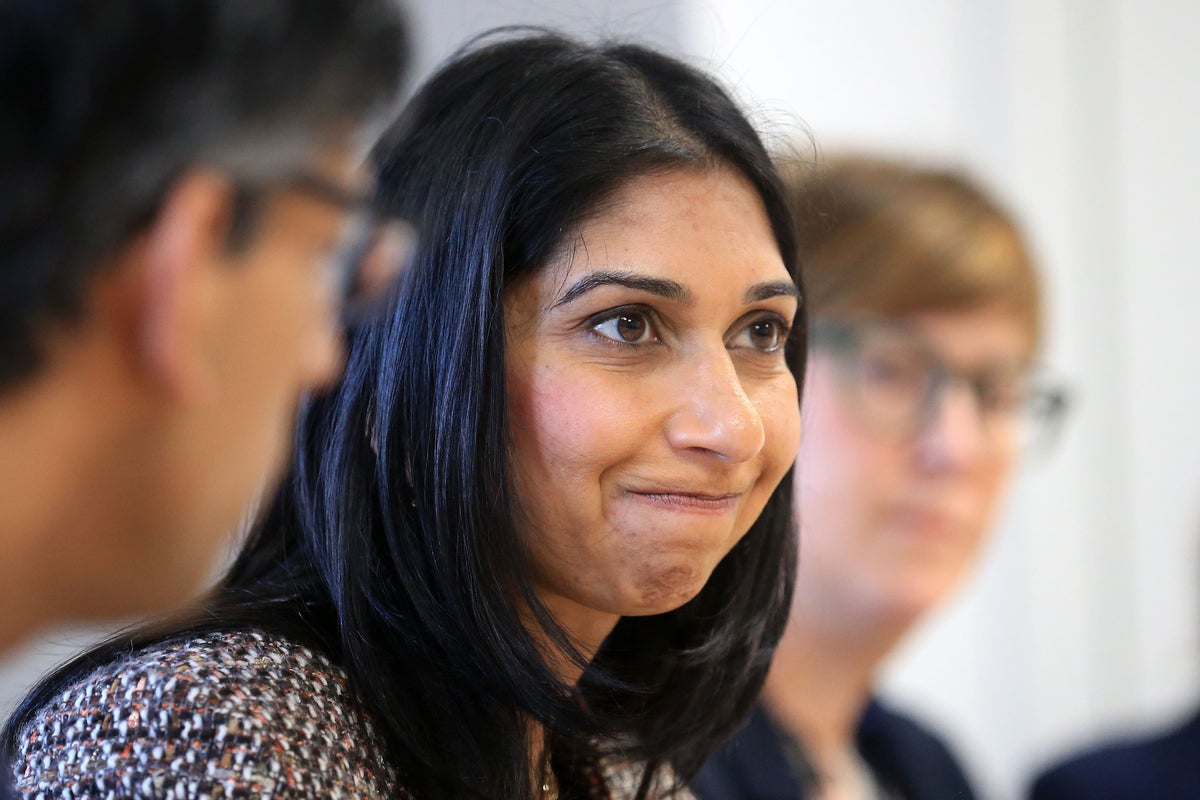 Rishi Sunak has declined to back Suella Braverman amid allegations that she asked civil servants to help her avoid getting points on her driving license for speeding.
The prime minister was asked by reporters whether he had full confidence in the Home Secretary – but replied that he did not know the "full details" of events and had not spoken to her.
Mr Sunak, who is attending the G7 summit in Hiroshima, would not say whether he would launch an investigation into Ms Braverman – as demanded by opposition parties Labor and the Liberal Democrats.
"I don't know the full details of what has happened nor have I spoken to the Home Secretary," Mr Sunak said.
"I think you can see first hand what I have been doing over the last day or so but I understand that she's expressed regret for speeding, accepted the penalty and paid the fine."
Pressed on whether whether he would ask his ethics advisor Sir Laurie Magnus to investigate the Home Secretary, Mr Sunak appeared riled, responding: "Did you have any questions about the summit?"
The Sunday Times newspaper reports that Ms Braverman asked officials to organize a private driving awareness course for her.
This would have allowed her to avoid both points on her license, as well as the alternative of appearing in a public class with other motorists.
But civil servants refused the request, and the Home Secretary is said to have turned to a political aide to assist her.
Ms Braverman, who is responsible for law enforcement as Home Secretary, was caught breaking speed limits while driving outside London while she was attorney general last summit – the highest ranking government law officer.


UK news in pictures
Show all 50
She ultimately decided to take the speeding points for the driving offense.
Shadow Home Secretary Yvette Cooper said it appeared the Home Secretary had "tried to abuse her position to get round the normal penalties", branding her actions "one rule for her and another for everyone else".
But Cabinet minister Therese Coffey, who was appearing on the Sunday morning media round for the government, declined to be drawn on the allegations.
Stonewalling when repeatedly questioned about the matter, she told Sky News's Sophie Ridge on Sunday program:
"I've scanned the newspapers myself this morning before coming on the show. I'm not in the business of phoning people at about twenty past seven in the morning to try and get chapter and verse… I'm just not aware of the details.
"What is clear is that Suella now has those three points on her license and she's getting on with the job about tackling, particularly, illegal migration, but also the wide security elements of our country."
When Mr Sunak took power he pledged a government of "integrity" – though he has already lost three cabinet ministers in the first seven months of his premiership.