One of the UK's most prominent business leaders, the Tesco chair John Allan, faces claims of inappropriate and unprofessional behavior from four women, the Guardian can reveal.
Allan allegedly touched the bottom of a senior member of Tesco staff in June 2022, at the company's annual general meeting (AGM). It is also claimed that he touched the bottom of a member of staff at business lobbying group, the Confederation of British Industry (CBI), at its annual dinner in May 2019, when he was the organisation's president.
Sources allege that Allan, 74, made inappropriate remarks on those occasions as well as separate, similar comments to two other female members of CBI staff in November 2019 and in 2021 respectively. Some of the women said they were offended by the alleged actions and considered his behavior to be sexual harassment.
Allan has denied all but one of the allegations – making a comment about a CBI staffer's appearance that she found to be offensive in 2019. A spokesperson for Allan said the other claims are "simply untrue".
A spokesperson for Tesco said: "John Allan's conduct has never been the subject of a complaint during his tenure as chair of Tesco." The company urged anyone with concerns or information to contact a confidential phone line.
The allegations about Allan emerged during the Guardian's investigation into the CBI – the UK's foremost business lobbying group. Allan was president of the organization between 2018 and 2020 and then vice-president until October 2021. He has been chair of the UK's biggest supermarket since 2015.
The CBI has promised to conduct a "root-and-branch" review of its culture. It has not offered a specific response on allegations related to Allan.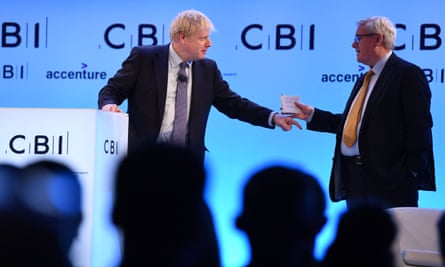 The claims raise questions over whether someone in his role can uphold the standards of corporate governance his positions require, according to some of the women. Allan is one of the most senior men in UK business, appearing regularly on the airwaves to speak for industry, and has been on the boards of some of Britain's biggest companies.
The chair of a company's board is expected to demonstrate the highest possible standards of behavior and professional conduct. But their position can make it difficult to ensure proper scrutiny of their own conduct.
One woman who shared an allegation about Allan said: "Leading a company or challenging its leadership means you have to hold up standards across all areas of governance, including sexual harassment. He fell short of what the role is meant to mean."
Another said: "It might seem a small thing to some people, but I felt humiliated and undermined by his actions."
The identity of the four women is known to the Guardian.
The details of the allegations are:
One woman alleges that Allan grabbed her bottom at the CBI annual dinner in May 2019. Allan denies that this occurred. A second source claims they saw the incident at the Brewery in London on 21 May 2019.

Sources told the Guardian that another woman complained to a manager after Allan commented on her appearance while at the CBI's November conference in 2019. Allan apologised for the remark after discussion with the group's then director general, Carolyn Fairbairn. Allan accepts he told the woman that a dress "suited her figure", but said it was a "misjudged way of seeking to cheer someone up". Fairbairn has previously said of her time at the CBI that "any allegations of inappropriate conduct made to me were taken incredibly seriously and swiftly addressed".

A third woman claims that Allan made comments about her bottom and that her dress was making it hard for him to concentrate on anything else in 2021, while she worked for the CBI. A second source claims to have overheard the exchange. Allan said he "did not recall" this incident and has no diary entries that show he attended any CBI events in person in 2021.

It is claimed that Allan touched the bottom of a senior woman who works at Tesco on the day of the company's 17 June 2022 annual general meeting at Welwyn Garden City in Hertfordshire.