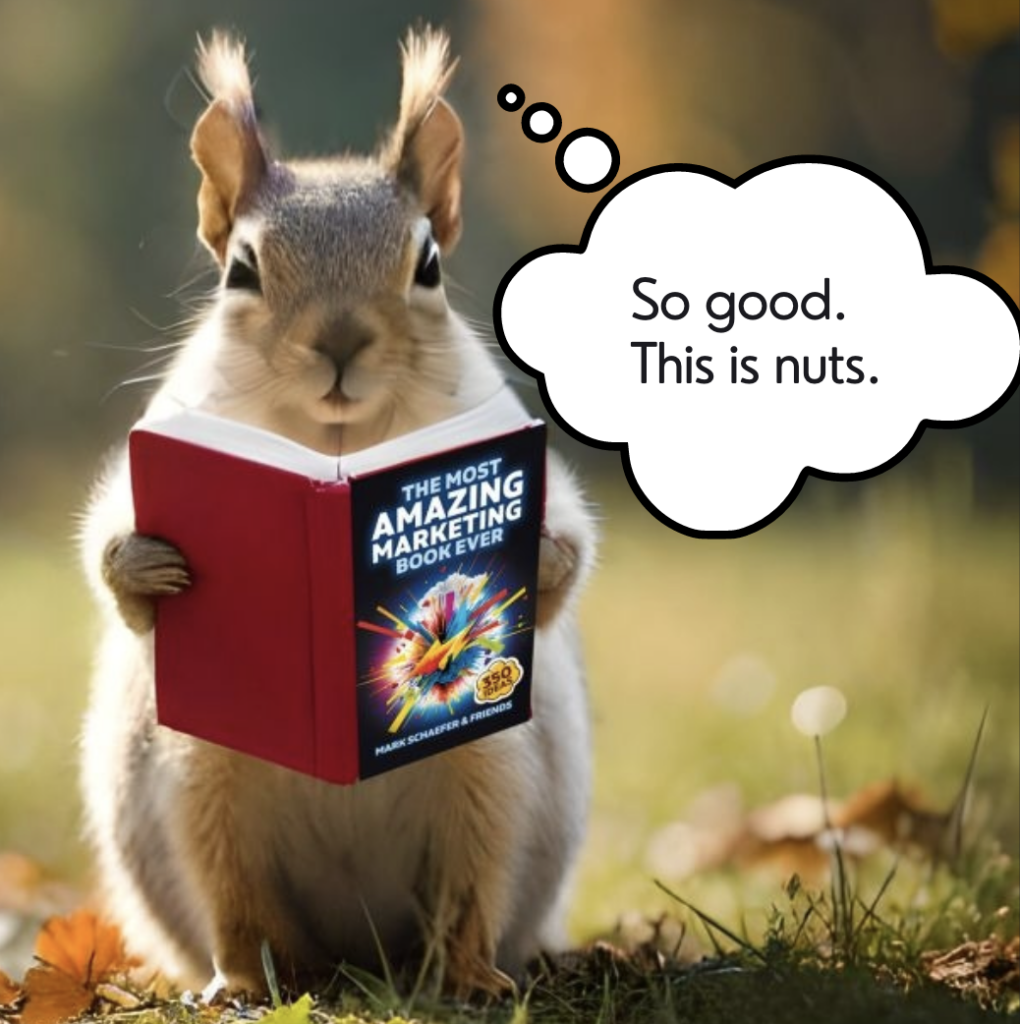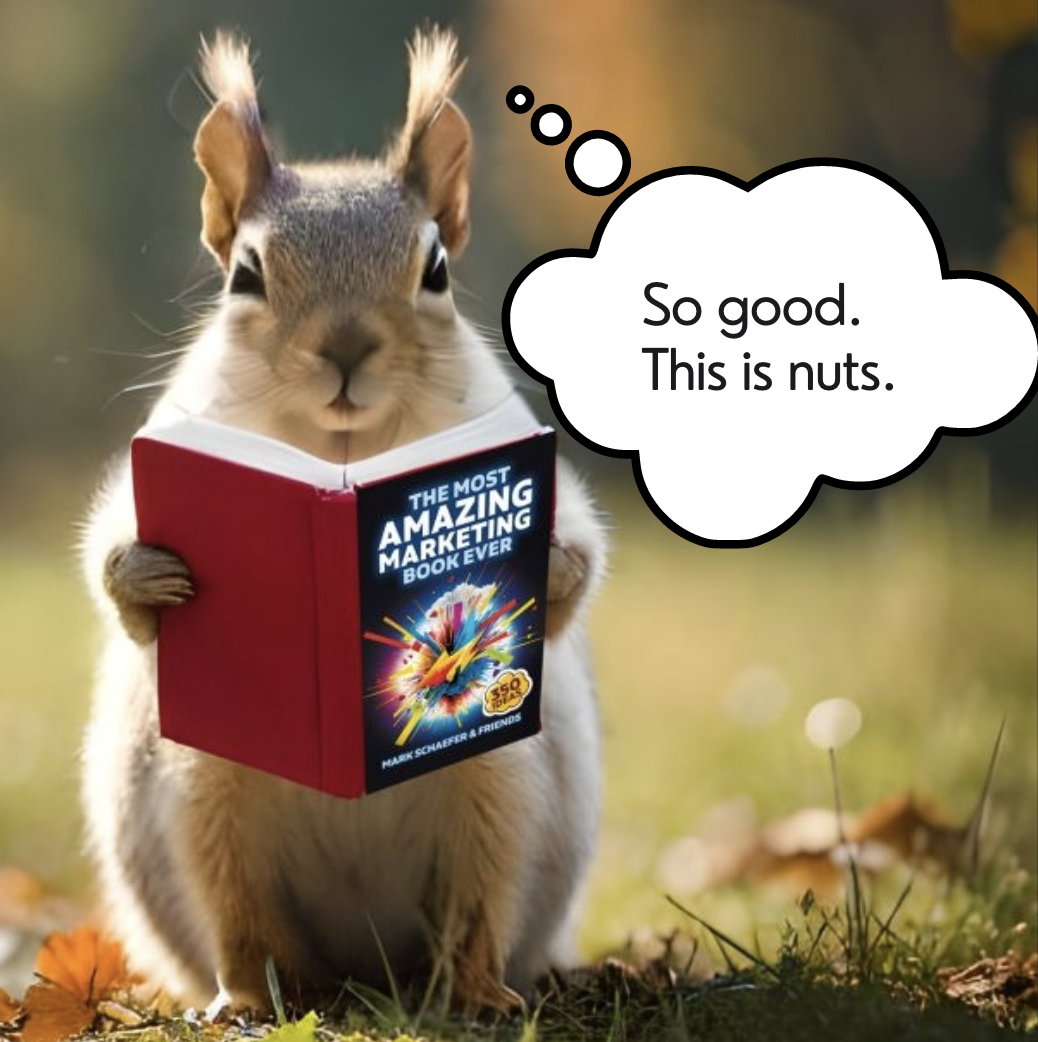 I founded a community of marketing geeks called RISE and we just unleashed something wild and wonderful. In fact, it is astonishing, unique, surprising, and, well … amazing! It is The Most Amazing Marketing Book Ever.
Before I PROVE to you that this is the most amazing marketing book, let me tell you how we got here. It's an amazing story in itself!
The seed of amazing
Second, the people who contributed to this book have more than 750 years of accumulated marketing experience. That's a wow, right?
Third, this book breaks content barriers. Unfortunately, most business books these days are nothing more than a blog post with 240 pages of fluff. Not this one!
Every page is filled with original and helpful ideas from passionate professionals. I challenged my community friends to create insights, not just rehashed information you can find in a blog post somewhere. They delivered.
Whether you're a seasoned pro or a small business owner trying to establish your first marketing strategy, get out your highlight marker. You'll find some new ideas here! And it's 100% human content. No ChatGPT or other AI was used to create the content of this book.
Finally, this is a book made with heart. There are many reasons to write a book. An author might want to make money, seek fame, or achieve a personal dream. This book is a celebration of the spirit of our community.
A fun book for every marketer …
There is so much knowledge jammed into this little book, you're sure to find great ideas no matter where you are in your career. Here are a few of the nuggets you can discover in the Amazing book:
Why you need to focus on the first hour after posting content on LinkedIn
The importance of trigger-based lead nurturing
Why the highest customer lifetime value might be associated with direct to consumer marketing
The reason using words like "check out our deal" repels consumers.
How obsession with metrics can actually undermine your business
Why Google loves 2,000-word blog posts.
How "purpose" can make or break a podcast
The ideal length of videos for every social media channel
The best formula for copywriting
How to build a future-proof social media strategy
TikTok's most common recording errors
The unexpected power of Twitter threads
The traditional marketing channel that consistently delivers an ROI of 112%
How word of mouth marketing is driven by 10% of the population
How brands are already integrating into metaverse games and experiences
Basic steps to integrate AI into your everyday marketing tasks.
That's just a taste of the interesting morsels in the book. You'll want to read it cover to cover!
But there's more …
Not only did the community write and edit the book, they recorded a narrated chapter for an audiobook. My audio editor proclaimed that this was the most ambitious project she had ever tackled. 36 Narrators? Insane.
But it worked! The result is singularly unique. Be prepared for a chapter from Ireland, Italy, Australia, and more. Each chapter is like the proverbial box of chocolates — you never know what you're going to get!
This is not another book created by one voice, one mind. This is 36 people giving you their best effort and most unique ideas. Here are the authors and subjects covered:
Dr. Karine Abbou (Content Marketing))
Marion Abrams (Podcasting)
Lisa Apolinski (Customer experience)
Larry Aronson (SEO)
Victoria Bennion (Blogging)
Joeri Billast (Web3 and NFTs)
David Bisek (Branding)
Richard Bliss (LinkedIn)
Al Boyle (Copywriting)
Julia Bramble (Twitter)
Anna Bravington (Experiential Marketing)
PepperBrooks (Inclusive Marketing)
Marci Cornett (Marketing Research)
Mandy Edwards (Facebook Strategy)
Laura Vendeland Doman (YouTube and video)
Robbie Fitzwater (eMail Marketing)
Giuseppe Fratoni (Copywriting)
M. Valentina Escobar-Gonzalez, MBA (Instagram)
Ian Anderson Gray (Livestreaming)
Kami Huyse (Social Media Strategy)
Mary Kathryn Johnson (Artificial Intelligence)
Rob LeLacheur (Traditional advertising)
Fiona Lucas (Community Building)
Jules Morris (Digital Advertising)
Scott Murray (Consumer Behavior)
Daniel Nestle (Strategic Communications)
Chad Parizman (Podcasting)
Brian Piper (Metaverse)
Frank Prendergast (Marketing Research)
Sandee Rodriguez (Promotional Products)
Mark Schaefer (Personal Branding)
Bruce Scheer (Marketing Measurement)
Zack Seipert (Influencer Marketing)
Samantha Stone, (Marketing Strategy)
Jeff Tarran (Direct Mail)
Joanne Taylor (TikTok)
… like I said, something for everyone!
But it gets better
You might be asking, how can this possibly get better? Well it can, because between now and June 02, this book is available as a Kindle edition for just $2.99! The paperback is also a pretty darn cheap $19.99.
I guarantee this is one of the most useful and unusual books you will ever own!
I am extraordinarily proud of this book. I think it represents a breakthrough in community productivity and publishing. And please check out the RISE community. We have many other exciting projects and activities going on. Maybe you'll be the star of our next event or project!
Twitter, LinkedIn, YouTubeand Instagram.
Related Posts
All posts
Join
SocialHub For Free
A social network for influencers, brands and fans.