Arbitrum, a popular blockchain platform, has shown promising results after its airdrop in March 2023. According to a report By Nansen, a blockchain analytics platform, every activity metric on Arbitrum has gone up compared to pre-airdrop days.
Arbitrum's Airdrop Bucks Trend
The report notes that since the airdrop, the daily count of transactions and users has remained consistently higher than the chain's historical averages. On top of that, the value of transactions, transfers, and trades in United States Dollars (USD) has followed a similar pattern.
Despite the initial surge in new wallets after the airdrop, the number of new wallets initiating their first transaction on Arbitrum has slowly declined over the two months.
However, gas spending on Arbitrum has been on the rise, consistently maintaining higher levels than pre-airdrop. Nansen's report notes that approximately 71% of the total 17,000 Ethereum (ETH) utilized for transaction fees on Arbitrum in the past 6 months was attributed to Layer 1.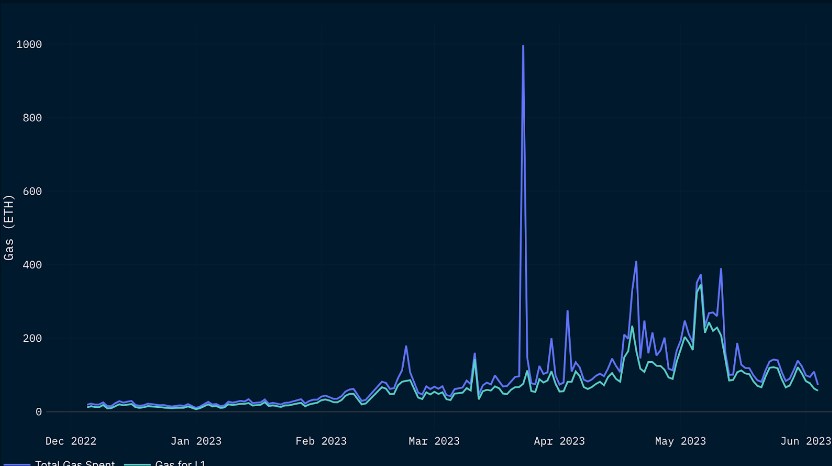 This indicates that Arbitrum maintains a significant share of bridging volume from Ethereum. At the same time, smaller entities such as Starkware, zkSync, PulseChain, and Across have gained a noticeable market share from March to May.
The report also highlights the number of wallets initiating their first-ever transactions on Arbitrum, a proxy for the rate at which new users enter the ecosystem. The number of new users has consistently remained at higher levels after the airdrop, surpassing Optimism and closely approaching Ethereum.
In addition, The report shows that 200,000 distinct wallets have chosen to delegate their voting rights to another 16,000 distinct wallets. The five largest wallets in terms of voting power belong to Treasure, delegate.l2beat.eth, olimpio.eth, PlutusDAO, and Griff Green collectively hold 49.7% of the Arbitrum voting Quorum.
The report also tracks the on-chain activity of airdrop recipients on Arbitrum, noting that the proportion of transactions originating from airdrop recipients has decreased after the airdrop. It accounts for approximately 5% to 6% of transactions on both Arbitrum and Optimism.
Despite this decline, the report shows that the number of daily active users, transaction count, and on-chain value on Arbitrum has stabilized at a level higher than before the airdrop. The upward trends in gas fee spending and the creation of new wallets also indicate a growing use of the platform.
Arbitrum Enables Exclusive Access To Snoop Dogg's Tour With NFT Pass
Variety Magazine has reported that the famous rapper Snoop Dogg is launching an NFT pass on the Ethereum scaling network Arbitrum, allowing fans to join him virtually on his upcoming concert tour. The Snoop Dogg Passport NFT pass is priced at 0.025 ETH or $43.
The Snoop Dogg Passport NFT pass promises exclusive access to updates from the rapper's life on tour, including behind-the-scenes videos and images uploaded by Snoop and his team.
In addition, fans who buy the NFT pass will also receive free drops of curated works from select NFT artists and access to future Snoop Dogg drops, playlists, and the ability to buy merchandise and tickets to events.
This move by Snoop Dogg highlights the increasing adoption of blockchain technology in the music industry and the potential for NFTs to revolutionize how artists engage with their fans.
Overall, the Snoop Dogg Passport NFT pass is an exciting new development in NFTs and blockchain technology, providing fans with unique and exclusive access to their favorite artists. As more musicians and artists explore the potential of blockchain technology, further innovation and development in this space can be expected.
Featured image from Unsplash, chart from TradingView.com
Join
SocialHub For Free
A social network for influencers, brands and fans.