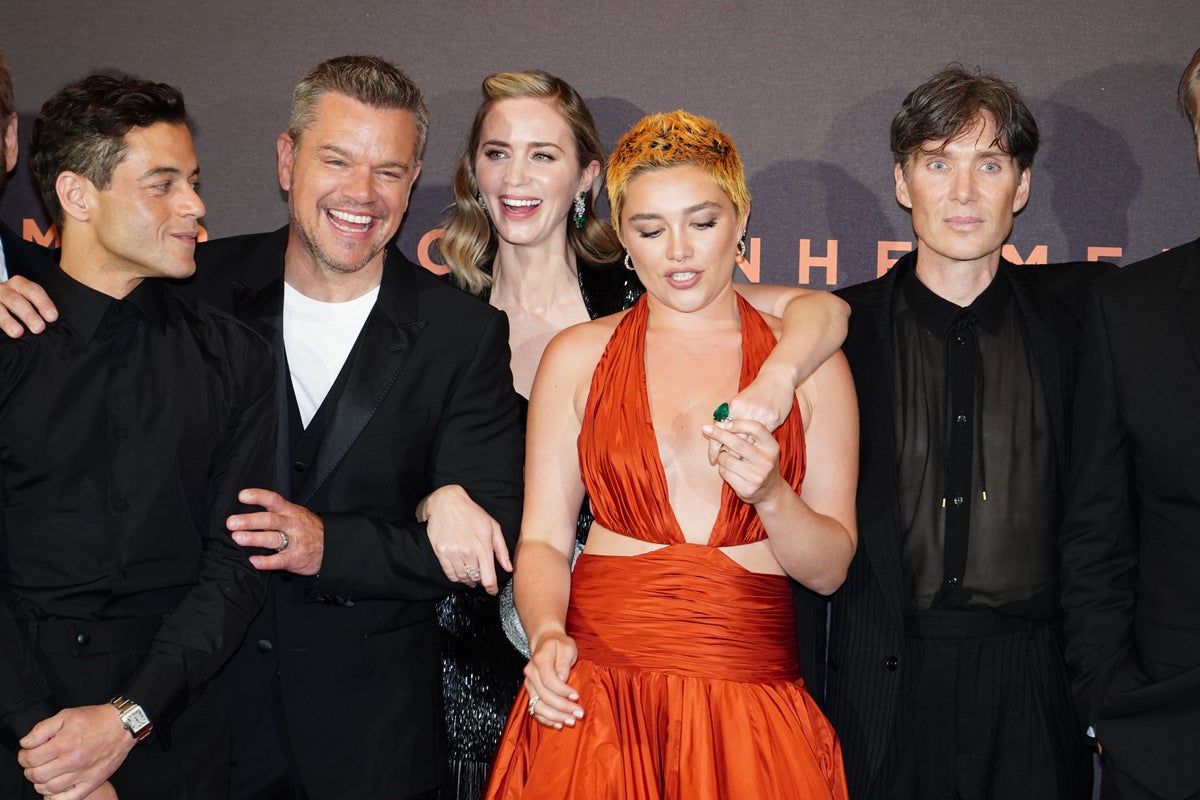 Cillian Murphy, Emily Blunt and Matt Damon were among the stars who staged a walk-out from the London premiere of Oppenheimer to "write their picket signs" ahead of the Sag-Aftra strike announcement on Thursday evening.
The premiere of Christopher Nolan's historical epic was brought forward by an hour ahead of a Sag-Aftra press conference in Los Angeles, which later declared the US union had agreed to strike.
The anticipated announcement cast a shadow over the London film premiere at the Odeon Luxe in Leicester Square, with the film's major stars including Florence Pugh, Robert Downey Jr, Sir Kenneth Branagh and Rami Malek leaving before the screening of the film.
Speaking on the red carpet, Sir Kenneth told the PA news agency: "Everybody is working very hard to make sure it doesn't happen, if it happens I stand in solidarity with our Sag members.
"We know it is a critical time at this point in the industry and the issues need to be addressed, difficult conversations, I know everybody is trying to get a fair deal, that is what's required so we'll support that."
Murphy told PA: "I stand by my colleagues, that's all I can say to you."
Meanwhile British actress Pugh told PA that the cast felt lucky to have got to the Oppenheimer premiere before the strike was announced but also lucky to be standing in solidarity with their acting peers.
She said: "It's been a really, really tense few days for a lot of people, not just actors but everybody in the industry who are going to be affected by this decision but affected by a decision that is necessary.
"Equally, premieres aren't just for us, they are to honor a movie, they are to honor a crew that made them so we feel both lucky, that we got to squeeze this in, and also lucky that we get to stand by. our peers in a decision that is made.
"We hope that something comes of it soon."
Speaking on stage at the premiere ahead of the strike announcement, filmmaker Nolan said: "I have to acknowledge the work of our incredible cast, led by Cillian Murphy.
"The list is enormous — Robert Downey Jr, Matt Damon, Emily Blunt, Florence Pugh, Kenneth Branagh, Rami Malek and so many more. You've seen them here earlier on the red carpet.
"Unfortunately, they are off to write their picket signs for what we believe to be an imminent strike by SAG, joining one of my guilds, the Writers Guild, in the struggle for fair wages for working members of their union."
The strike news comes after the US union and Hollywood studios failed to reach an agreement after more than four weeks of negotiations, with actors wanting better pay and increased safeguarding around AI rights among their demands.
Last month Sag-Aftra members voted overwhelmingly to authorize a strike if a new contract with major studios, streamers and production companies could not be reached.
Nearly 98% (97.91%) of the 65,000 members who cast votes were in favor, Sag-Aftra said.
Announcing the strike at a press conference on Thursday, Sag-Aftra president Fran Drescher gave an impassioned speech in which she it was a "very seminal hour" for the union.
"The gravity of this move is not lost on me … it's a very serious thing that impacts thousands if not millions of people.
"This is a moment of history that is a moment of truth. If we don't stand tall now we are all going to be in trouble.
"The jig is up AMPTP, we stand tall, you need to wake up and smell the coffee. You cannot exist without us."
Asked how long the strike would last, Ms Drescher said: "That's up to them, we are open to talking to them tonight.
"All of this is because of their behavior, it's up to them if they want to talk in a normal way."
Meanwhile, British actors union Equity said it stands "full square behind our sister union", stating it has also been experiencing "bullish engagers attempting to undermine its collectively bargained agreements".
The general secretary of Equity, Paul W Fleming, said Equity had been in "constant contact" with Sag-Aftra during the negotiations, adding that it will "continue to work closely and collaboratively on advice for artists working in the United Kingdom as the situation. develops".
A statement from the Alliance of Motion Picture and Television Producers (AMPT) said it was "deeply disappointed" that the union had decided to "walk away from negotiations".
"This is the union's choice, not ours.
"In doing so, it has dismissed our offer of historic pay and residual increases, substantially higher caps on pension and health contributions, audition protections, shortened series option periods, a ground-breaking AI proposal that protects actors' digital likenesses, and more.
"Rather than continuing to negotiate, Sag-Aftra has put us on a course that will deepen the financial hardship for thousands who depend on the industry for their livelihoods."
It is now anticipated the strike will affect upcoming award shows, premieres, events and film festivals around the world, including the Toronto and Venice film festivals, and the 75th Emmys.