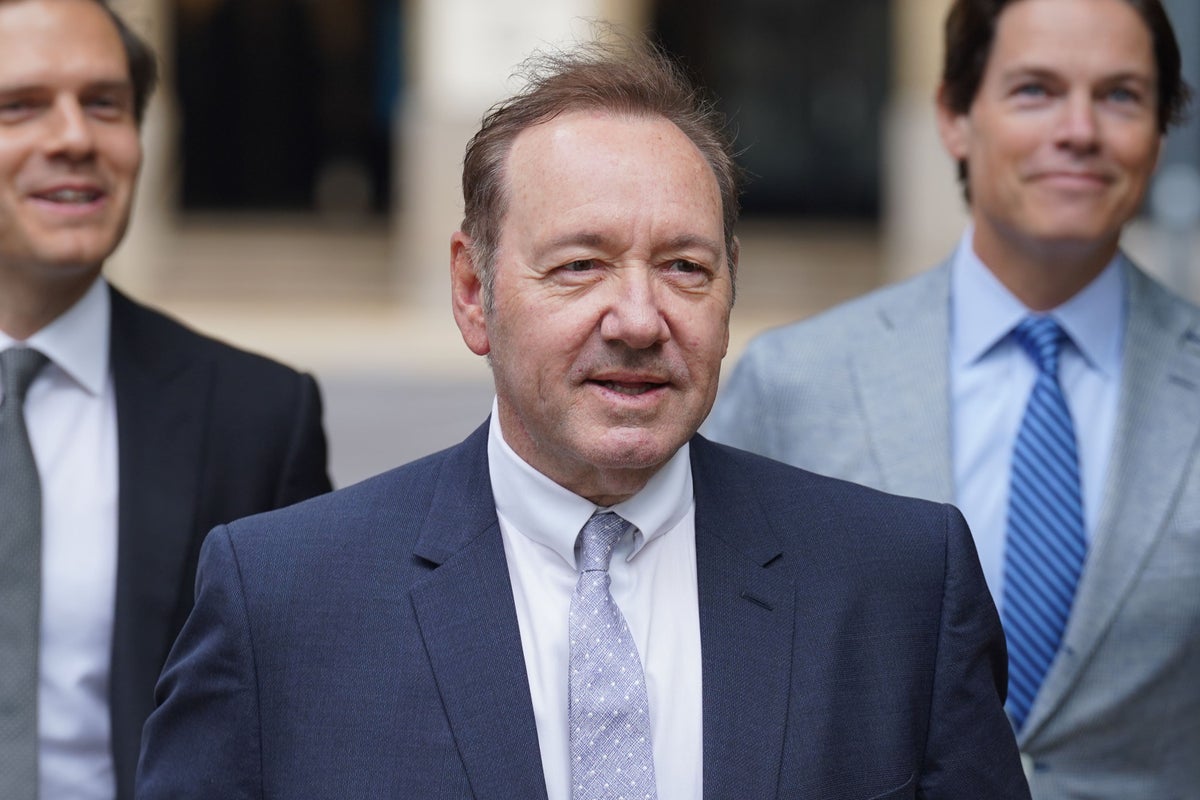 Oscar-winning actor Kevin Spacey had a "panicked" look on his face after a man he met in a pub rejected him when he grabbed his crotch, a court has heard. The alleged victim, who cannot be named for legal reasons, told a police officer that the Hollywood star had kissed his neck twice before grabbing him and saying the words "Be cool, be cool."
In the interview, played to the jury at Southwark Crown Court, the man detailed an alleged incident at an address where Spacey was staying in the Cotswolds, which he said took place after he had accidentally let the actor's dog out.
He said the actor's behavior "shook" him and that it was "unwanted", and that he had since "stopped ever watching or purchasing anything he [Spacey] had ever been involved in".
The complainant said he apologised to Spacey for the dog having briefly escaped, "at which point he came towards me in a huggy motion and said, 'Don't worry about it, it is cool, it is cool.'
"We did an awkward man-hug, as I call it – he hugged me, I did a sort of pat on the back type of thing.
"At that point he kissed my neck twice and grabbed my crotch. He said the words 'Be cool, be cool' twice. I put my arm between us and pushed him against a wall. I said 'I am sorry, man, I don't bat for that team.'"
The man said that after he rejected Spacey, the actor had an "immediate panicked look on his face" and left the room. He said Spacey's "eyes opened quite wide" before he "immediately pushed past me" and into another room without saying anything.
The complainant described his "shock" at the incident but said that he "shook it off" before leaving. He told police it had "all happened quite swiftly" and that he had become "a bit teary" when he left the address.
Recalling when Spacey had met him, he said that the actor had turned up at a pub and begun socializing with him and his friends. He said the star had joined his group and begun drinking double Jack Daniels and colas while he had pints of Guinness.
The man told police Spacey had become "quite open" with them, but had begun to touch the legs of members of the group.
He said: "There were a few moments where he had put his hand on your back, [or] pat you on the back, or put his hand on your knee or something. It was not anything that we thought too much about, just sort of moved to the side or moved his hands away."
Spacey then allegedly told the group and others: "If you want to carry on the party, I have got drink, wine and beer back at the house and a few spliffs."
Jurors heard that the star had 20 to 30 joints of marijuana at a property where he was staying and began showing people around.
The alleged victim said he had smoked on the veranda with a friend and they had joked about why some guests were so starstruck by the actor, before the alleged victim accidentally let Spacey's dog out when they went inside.
On Monday, another of the actor's alleged victims told the court that the star was a "slippery, snaky, difficult person" who behaved as though he "thought he could groom me".
On Tuesday, the court heard evidence from the alleged victim's brother and two of his ex-girlfriends. Jurors were told that the man's relationship with his girlfriend had "cooled" around the time when the alleged attacks were said to have taken place.
Spacey, 63, has been described by the prosecution as a "sexual bully" as he stands trial accused of sex offenses against four men between 2001 and 2013.
The defendant pleaded not guilty in January to three counts of indecent assault, three counts of sexual assault and one count of causing a person to engage in sexual activity without consent.
The two-time Academy Award winner also previously denied four further charges of sexual assault and one count of causing a person to engage in penetrative sexual activity without consent.
The trial continues.
PA