A man has been found guilty of murdering his nextdoor neighbor and her two young children by pouring petrol through their letterbox and setting fire to their flat while they were asleep.
Jamie Barrow, 33, admitted starting the fire in November last year that killed Fatoumatta Hydara, 28, and her daughters, Fatimah Drammeh, three, and Naeemah Drammeh, one.
He pleaded guilty to manslaughter but denied murder, claiming he did not think the family were at home at the time.
On Tuesday, after almost seven hours of deliberations, a jury unanimously convicted Barrow of three counts of murder and arson being reckless as to whether life was endangered.
After the verdict, the victims' family said in a joint statement: "Words cannot quantify how much our family have suffered because of the horrific actions of one man. His actions were utterly heartless and cruel – and have caused a multigenerational trauma that we will never understand."
They described Hydara as "a caring daughter, wife, sister, mother and friend. If love and compassion could make a person immortal, she would have lived for ever."
The family said Fatimah and Naeemah were "two angels who deserved a beautiful childhood and a full life".
DCI Clare Dean, of the Nottinghamshire police major crime unit, said Barrow's crime was "utterly senseless".
"This is a tragic case in which a caring and compassionate mother and two young children were taken away in the cruellest way imaginable," she said.
After Barrow's arrest two days after the fire, police said the incident was initially recorded as a hate crime. But in court, prosecutors said his motive may never be known. It was suggested he may have had a grudge against the family as he believed they were leaving rubbish in an alleyway, or that he wanted to be rehoused by local authorities in order to be closer to his son.
The court heard Barrow had a history of starting fires to relieve mental distress and claimed to find them "cathartic".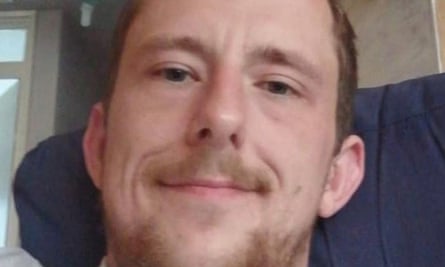 On 22 November last year, he drank at least eight cans of beer before pouring petrol through the door of his neighbor's first-floor flat in Clifton, Nottingham, and setting fire to it, the court heard.
The jury were told he watched the fire take hold before walking away and taking his dog out while smoking a cigarette.
Hydara and her children were carried from the burning flat by firefighters. All three died from smoke inhalation.
They had been due to move to the US to join Hydara's husband and the children's father, Aboubacarr Drammeh, 40, who was working there, and the family were near the end of a three-year visa application process.
Barrow was arrested by officers while they were collecting witness accounts from neighbors in the days after the fire.
He told police, "I need to tell you something about the fire next door", before bowing his head and holding both of his hands in front of him, which the officers interpreted as an invitation to handcuff him.
After being cautioned, he said words to the effect of, "I was going to hand myself in at Clifton police station anyway today", and was subsuquently arrested on suspicion of murder.
Ch Insp Karl Thomas, the local neighborhood commander at the time of the fire, said he knew there were "many members of the community who believe these murders were a hate crime".
"It's important to say that, following a very detailed and thorough investigation by a large team of detectives, the investigation team left no stone unturned to investigate the circumstances and presented the evidence to the jury to reach these verdicts," he added.